Fast Delivery
3+2 Years Warranty
30-Day Money back
FEATURES
TECH SPECS
FAQ
REVIEWS
Jackery Explorer 1000 Pro Portable Power Station, powers multiple devices simultaneously with a fully compatible power station! Offering a battery capacity of 1002Wh, the 1000w portable power station keeps your electrical devices charged during camping and power outages. The features include industry-leading BMS, pure sine wave technology, 94V-0 fire rating material, a foldable handle, whilst weighing at just 11.5kg.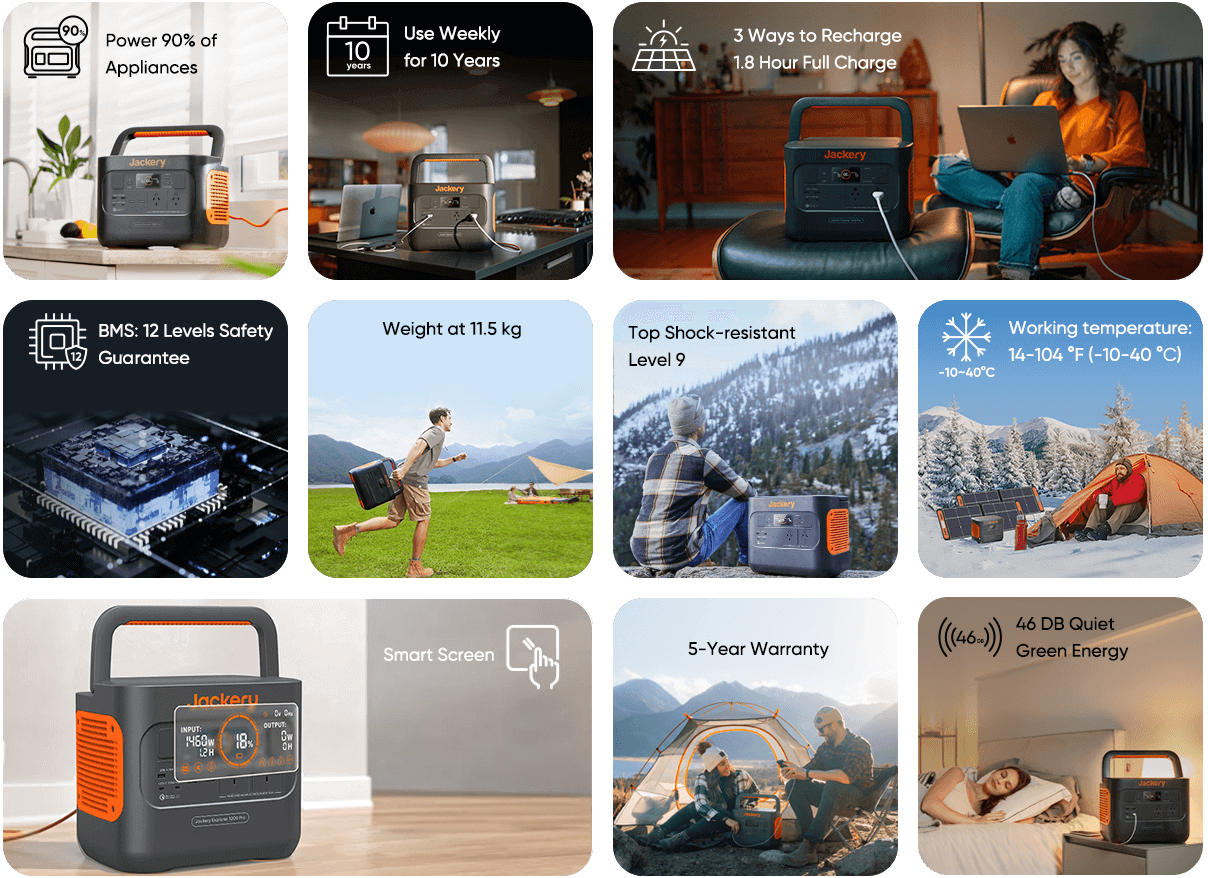 Running Time Simulator
To power with Explorer 1000 Pro (1002Wh Capacity)
Please enter the wattage of the appliance (not exceeding 1000W)
W
Input power does not exceed
0
Hrs
Expected Running Time
Note: This is a calculation for reference. Please take the actual use for accuracy.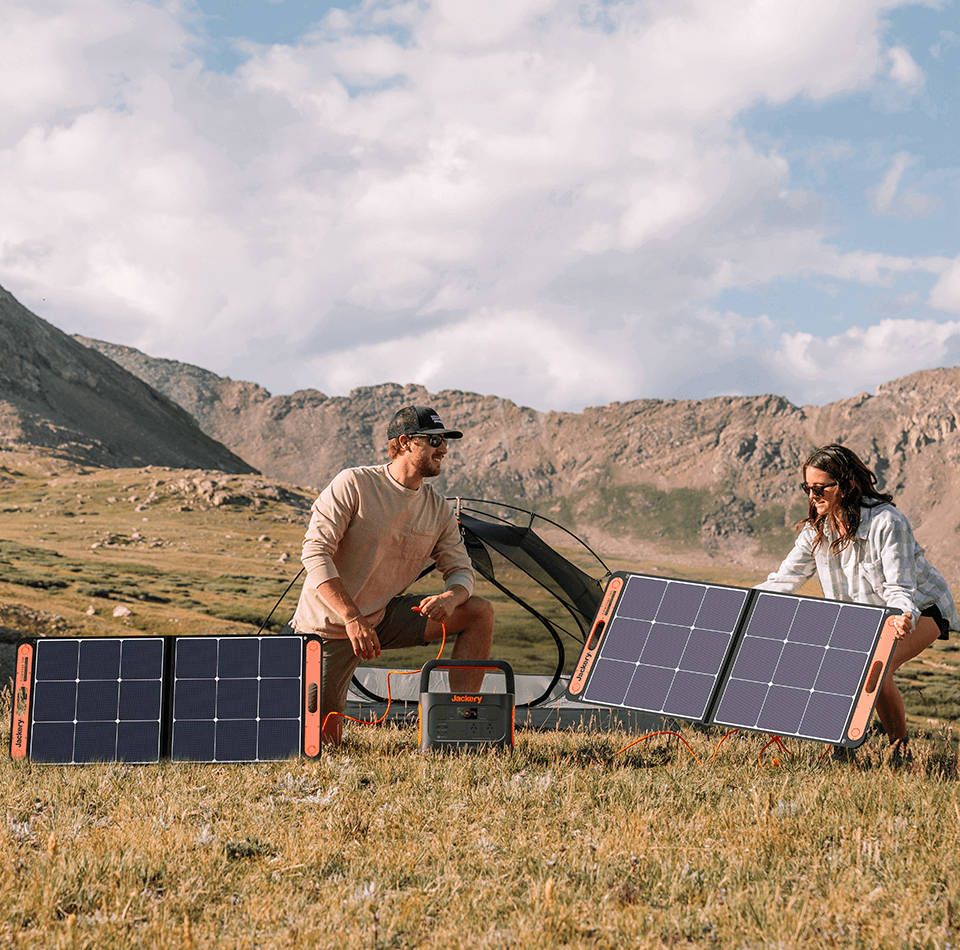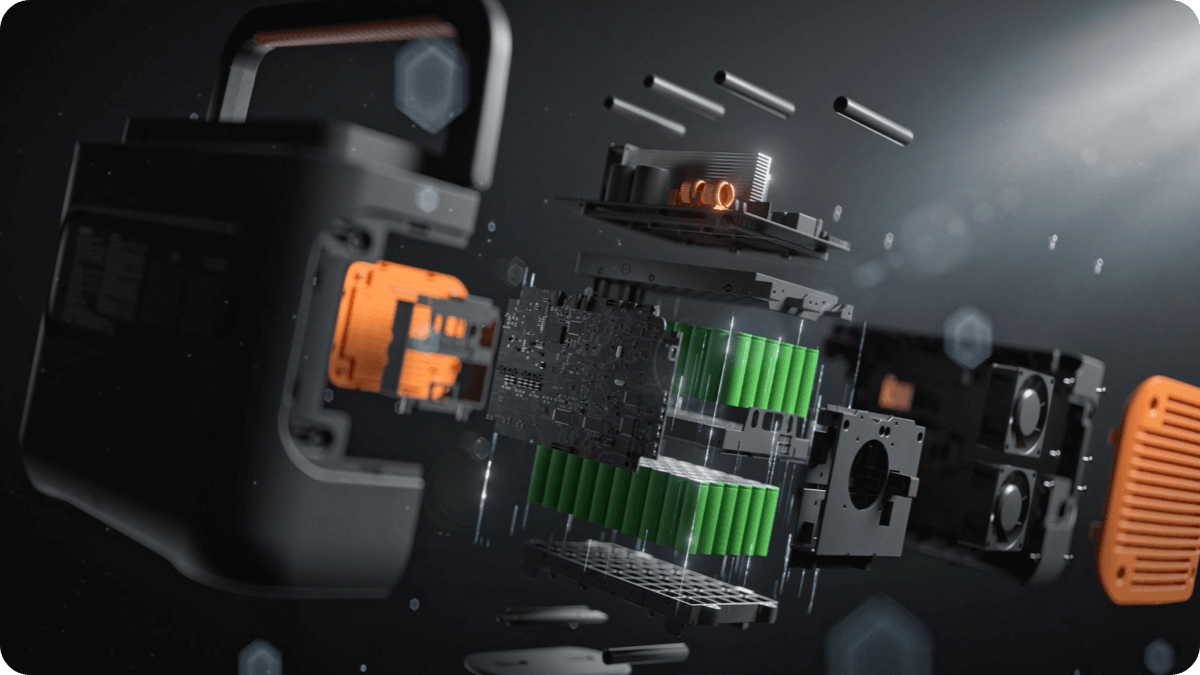 How Many Solar Panels Do I Need
Choose One Type of Solar Panel
0 Hrs
Recharging Time
0 Wh
Sustainable Energy Saving
Product Recommendation
Product Details
Specs in Pictures
Specs
What's in The Box
User Manual
BATTERY INFO
Notice
* This product (portable power supply) can supply power to your device in the temperature range of -10 to 40 degrees Celsius (-10 to 65 degrees Celsius for solar panels). If the operating temperature is outside the above range, this product may not work.

User Guide Videos / Pictures
How To Use Jackery Solar Generator 1000 Pro (Explorer 1000 Pro + SolarSaga 80W)
How To Use Jackery Power Station Explorer 1000 Pro
FAQ
A: The Explorer 1000 Pro uses a ternary lithium battery.

A: It is rated for 1000 full charge cycles, at that point you will have approximately 80% of your original capacity, and will gradually reduce from there.

A: We recommend that you keep the battery power above 20% when using or storing the power station daily.A fully charged battery can last for several months, please recharge it every 3 months to keep the battery power above 50% when not in use.

A: Sorry currently, the product doesn't support the APP connection, however we will look to find another solution, in the future.

A: Yes, the Explorer 1000 Pro has an internal MPPT controller.

A: The noise does not exceed 46 dB within 1 meter.

A: Yes, the Explorer 1000 Pro fully supports pass-through charging, with no adverse effects to the battery.

A: How do you switch on low power consumption? Press the AC switch button + DISPLAY simultaneously. If it doesn't switch on, the system will automatically shut down after 12 hours of no-load, or low power consumption.

How do you turn off low power consumption? Press the AC switch key + DISPLAY for 1 second.

A: Yes, please refer to the following technical details:

USBA and USBC port: ≤2W, automatic shutdown after 12H

AC port≤18 W (inverter), automatic shutdown after 12H

car charger port≤2W 12H, automatic shutdown after 12H

A: Yes - the Explorer 1000 Pro can be considered as the fully updated version of the Explorer 1000.

A: The E500 does not feature an updated version currently - so please stay tuned and follow our Official Website, social media accounts, or fully subscribe to our email newsletter for future updates.

A: The Jackery power station Explorer 1000 Pro can run devices at 110V, requiring less than 1000W. If this does not exceed the output power of the Explorer's AC port, it can be supported by The Explorer.

Calculate the charging time by using the following formul

Working time = Explorer's watt-hours * 0.85/operating power of your device.

A: It can be fully charged with the AC charger in 2 hours using fast charging.

One car charger can fully charge the Explorer 1000 Pro in 12 hours, with 2 car chargers in 6 hours.

And it can be fully charged with 800W solar panels in 1.8 hours (time differs depending on sunlight intensity, angle and temperature).

If you have any other inquiries, please feel free to inform Jackery's Customer Service Team.

A: Here are all of the certifications of the product: UN38.3/Quality Inspection GB31241/ICES-003/TSCA/California 65/CEC/DOE/Nrcanbattery: GB31241-2014/UL1642/RoHS/REACH/UN38.3

A: Please refer to the size and weight as of below:

13.64KG (including UN certified box)/39.5*31.5*43.5cm (including UN certified box)

The product itself is approximately 11.5Kg/length 34 x width 26 x height 25.55cm

A: The packaging contents includes: 1* AC Cable, 1* Car Charger Cable, 2 *8mm Adapters (transfer DC7909 to DC8020), 1*User Manual.

A: Yes , however DC takes priority.

A: Yes - it will shorten the charging time by up to half the time.

A: Yes, the two DC inputs are independent and it will not affect each other.

A: Please plug the cable directly into the Explorer 1000 Pro.

A: Please plug the 2 units of 80W solar panels directly into the 2 DC input ports.

A: The solar panel 80W comes with a reflective carrying case. It features double-sided power generation through the reflective optical fiber, and reflective angle can be adjusted, through the sticking position of the magic tape of the carrying case.

A: The Explorer 1000 Pro is unfortunately not waterproof. Please make sure you keep away from the rain.

A: The Explorer 1000 Pro uses the highest 94V-0 fireproof material required by UL in the United States.

A: The Explorer 1000 Pro has an internal adapter - please plug the cable into it to recharge directly.

A: Apologies a PD cable does not come with the product - please purchase separately

A: The AC cable and DC car charging cable is 2 meters long, with 80W solar panel coming with a 2-meter extension cable that transfers the DC8020 to DC7909.

A: Could you please provide me with your order number and current shipping address? Jackery offers a free cable on all official orders.

A: Thank you for choosing Jackery and reaching out to us.

You can use the car charger, and AC cable of E2000 Pro AC cable to recharge the Explorer 1000 Pro, however strictly do not use the AC cable of the Explorer 1000 Pro to recharge the E2000 Pro, or this will cause battery damage.

If you have any other inquiries, please contact Jackery's Customer Service Team.

A: Thank you for choosing Jackery and reaching out to us.

We strongly do not recommend using other solar panel brands to recharge Jackery power station products.

Since we can not guarantee other brand quality and provide an after-sale service - for instance if becoming damaged using other company's solar panel brands.

If you have any other inquiries, please contact Jackery's Customer Service Team.
Excellent Portable Power Station by Jackery Australia
The E1000 Pro Jacker Explorer Power Station provides 1000W of continuous power, which can handle short surges up to 2000W, for those surge appliances such as refrigerators/freezers, washing machines, or small portable air-conditioners. It has dual front AC outlets with a pure sine wave perfect for long-term care of sensitive devices such as computers and other electronics. It has dual back DC inputs for charging with up to two solar panels simultaneously, or for charging from a vehicle's 12V outlet with the adapter. An alternative wall charger can charge the unit via the back AC input in less than 2 hours. It also provides 2x regular USB slots, 2x USB-C slots, a 12V 10A outlet, and a torch light. Features a compact, modern, sleek design with an informative display for ease of reading capacity and charging status. Jackery Australia appears to have recently stepped up their customer support and service in Australia for Jackery units. While this unit boasts a very slow rate of discharge when sitting unused, I would personally recommend to mark your calendars to remember to charge the unit 3 times per year if sitting unused. It is very easy to do, and will help to preserve the longevity of the unit even beyond warranty.